Corey Pollock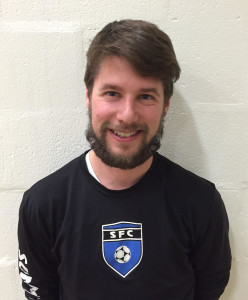 Coach Pollock enters his 14th year coaching soccer and his 6th season with Summit FC.  Over this time, he has coached with the U14 and U16 boys, where he led his team to the Amherst Memorial Day Tournament championship in 2014.  Most recently he spent 3 seasons as the U10 boys head coach.  In 2018 he takes the reins of the U14 girls team.
Raised in Rutland County, Corey's coaching experience includes positions as the Rutland High School JV boys head coach, RHS varsity boys assistant coach, as well as with the Rutland Intermediate School boys and the Rutland Town Middle School girls.  He has been involved with the Rutland Recreation Department youth program since 2005, starting as an assistant coach and moving on to head coach of the Fall, Winter, and Spring girls programs.
As a player, Coach Pollock grew up playing in the Rutland Recreation Department and joined the Rutland County Soccer Club when it was founded in 1995.  He competed for RCSC for 12 years, and was a 3-year starter at Rutland High School.  While at RHS, he helped lead the team to 3 top-5 seeds in the Vermont Principals Association state tournament.  After graduation, he attended Springfield College, where he played varsity soccer as a freshman.
In addition to his involvement with soccer, Corey has extensive experience coaching lacrosse at Rutland Intermediate School and Rutland Town School.  He is also the U10/U12 Race Program Director for the Pico Ski Club.