Tommy Kirk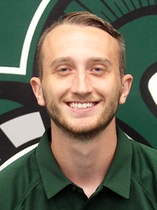 A 2019 graduate of Castleton University, Kirk was one of the the most heralded players in Spartan men's soccer history. He was a 2-time North Atlantic Conference Defensive Player of of the Year as well as 3-time member of the All-Conference first team while garnering NAC Academic All-Conference recognition. He helped lead the team to the 2017 NAC regular season and tournament championships which included an NCAA Division III Mens Soccer Tournament berth. In both his Junior and Senior seasons he was a co-captain of the squad and became CU men's soccers first Academic All-New England player as awarded by the United Soccer Coaches. He capped off his career with a selection to the New England Intercollegiate Soccer League Senior All-Star game.
A native of Gloversville, NY, Kirk played club soccer for Blackwatch-Albany under coach Steve Freeman, playing in the Super Y League and in tournaments such as the Jefferson Cup (VA), Bethesda Memorial Day (MD), and Surf Cup (CA). He was a 3-time team MVP at GHS and named a Foothills Council Conference All-Star.
He holds a USC 11 v 11 Coaching Diploma, a US Soccer Grassroot License and has been a staff member at various summer soccer camps in Vermont and New York.
Tom's responsibilities include daily on-field coaching, practice planning, recruiting, scouting, team travel, overseeing academics for the team and game preparation. He is pursuing a Masters Degree in Sports Leadership at Castleton.